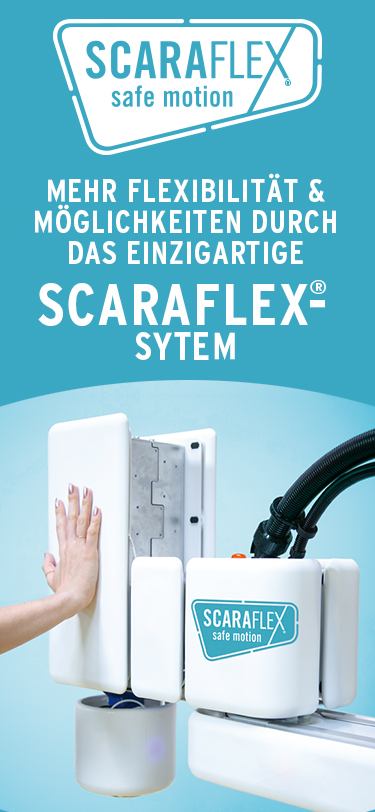 SCARAFLEX – technical specifications
Technical specifications at a glance
Welcome to the Technical Specifications section! The content of this page as well as other useful technical information can be found in our special folder – available for download right here.
SCARAFLEX as a safety device
All active components of SCARAFLEX have the certification as a Safety Part.
SCARAFLEX is a security application that enables fence-free or collaborative use of an EPSON Scara.
By using SCARAFLEX, the Scara robot is made safe. The implementation of the robot in the application (hence the working area in which the Scara moves) as well as the gripper and the product itself must be evaluated by the manufacturer of the application in a risk analysis and via force/pressure measurements.
SCARAFLEX combines the best of two worlds – the precision and durability of the EPSON Scara series with the space-saving, collaborative and fence-free SCARAFLEX application.
In the field of collaborative Scara robots, SCARAFLEX is currently the only product with the level of an industry standard – and at an excellent price-performance ratio.
SCARAFLEX also offers partners the opportunity to establish themselves as specialists in the field of fence-free robot applications.
Available from your EPSON sales partner.
For more information please contact sales@scaraflex.com or +43 1 865 9559.